Enhanced Coach Profile - Overview
Enhanced coach profile gives coaches the ability to create their own custom web page which can help them boost their visibility online even further. This feature is an upgraded version of the Public Coach Profile – exclusive for coach accounts with paid membership levels.
To get started:
Go to your Coach Profile
Find the "Enhanced Web Page Profile" on the Right Panel of your Coach Profile.

Click the Get Started button.
You will be redirected to the Web Page Builder.
Web Page builder
Updated May. 23, 2021 by Support
Overview
The Web Page Builder is where you can update the content of your web page, upload images, update video links and sort out sections of your web page.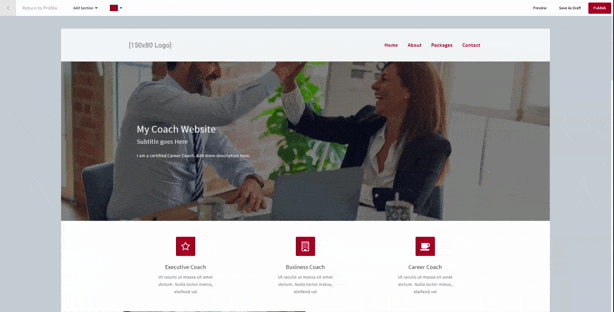 Adding New Sections
You can easily add a new section on your web page by hovering or clicking the Add Section button found at the top left side of the Web Page Builder.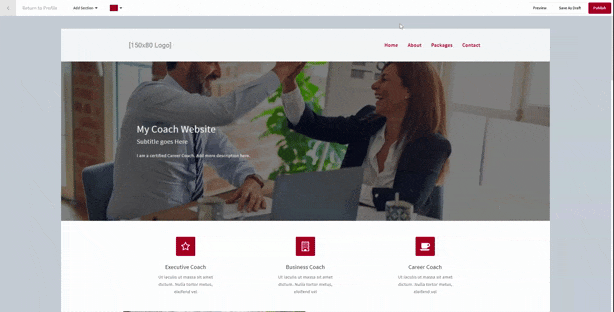 Tip: The common format of a good web page is to have one header section, at least 4 to 6 content sections, and a footer section.
Hover and Click to Update
You can easily update the contents by hovering your mouse on any elements of your page, click to see the popup screen and fill up the fields accordingly.
Drag Sections to Sort
You can drag the sections to sort them out on your preference.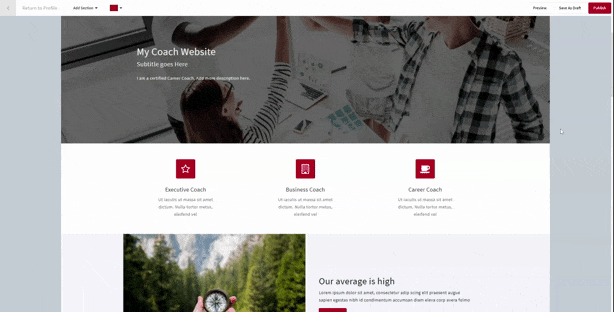 Removing a Section
You can easily remove a section by hovering on it and clicking the "X" button at the top right side of the same sections. Keep in mind that this action is irreversible.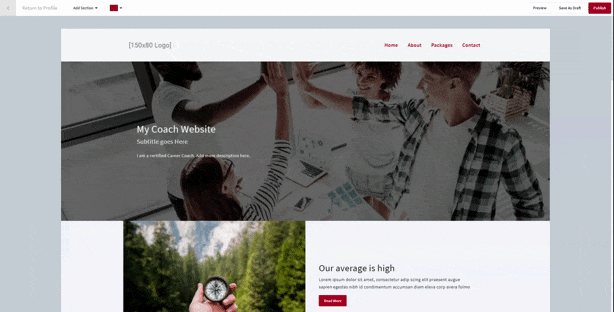 Saving and Publishing
Updated May. 23, 2021 by Support
Save as Draft
By default, every change you made within the Web Page Builder will be automatically saved as draft. If you are still uncertain, you can click the "Save as Draft" button at the top rightmost side of the page.
Publishing your Web Page
To make your web page visible to the public, you need to publish it by clicking the Publish button at the top rightmost side of the page. Once it is published, the web page you have created will reflect on Coaching Loft – Coach Finder as well as it will be read by search engines like Google, Yahoo, Bing, etc. for indexing.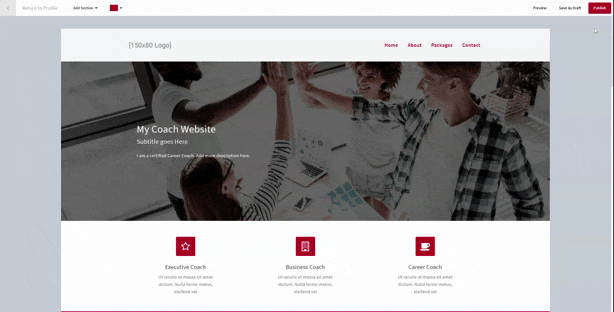 You can also share your website link by copying it from your coach profile page and pasting it on any social media platforms.