Setting up your Coach Profile
Updated Nov. 23, 2023 by Support
After you created your account and logging in for the first time, you will be redirected to your profile to complete your information.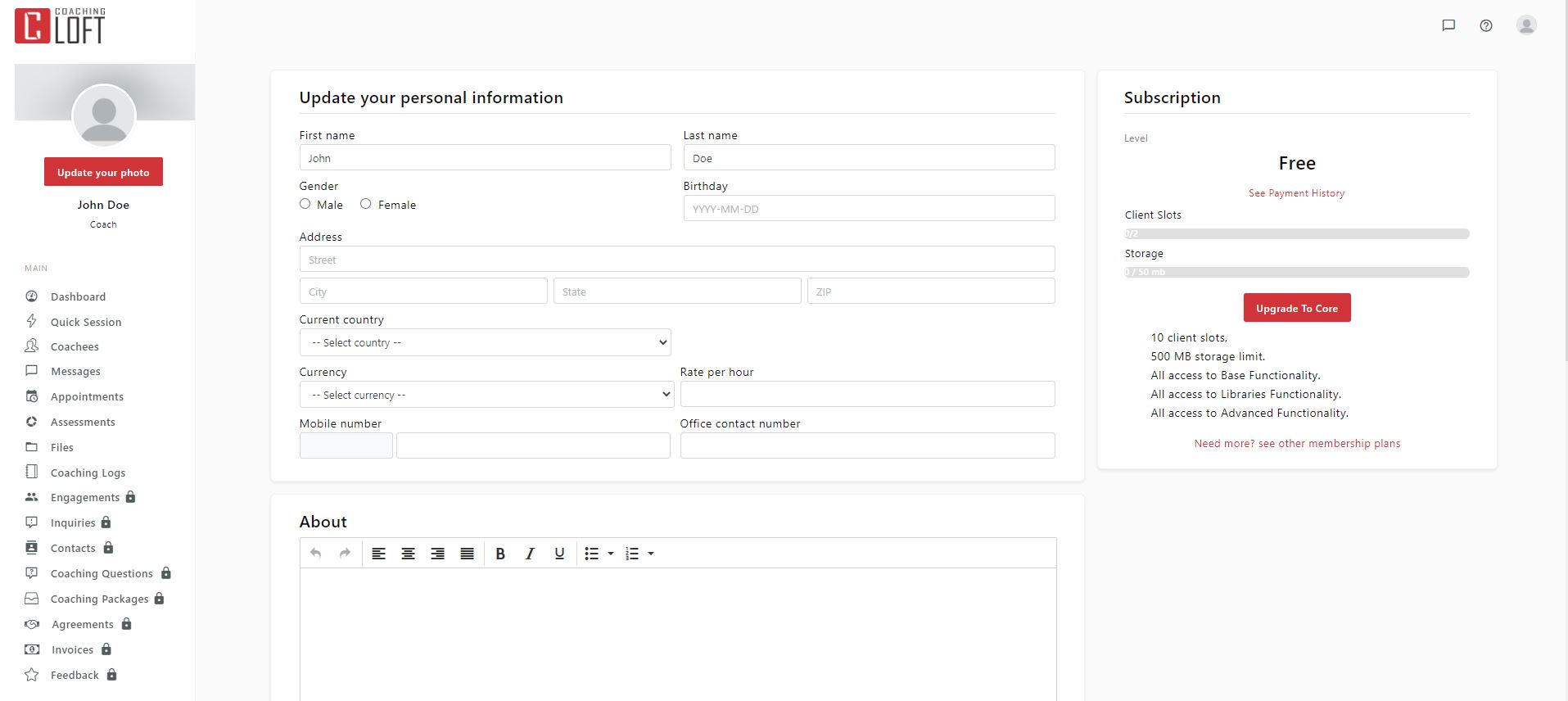 Complete your profile by entering your personal details as necessary.
Make sure to fill up all the required fields:
First name
Last name
Gender
Birthday
Current country
Mobile Number
Choose your coaching type
Post profile setup
After filling up and submitting your information, you will be redirected to your profile landing page.
This page is where you can update photos (profile and cover photo) and also where you configure your profile settings.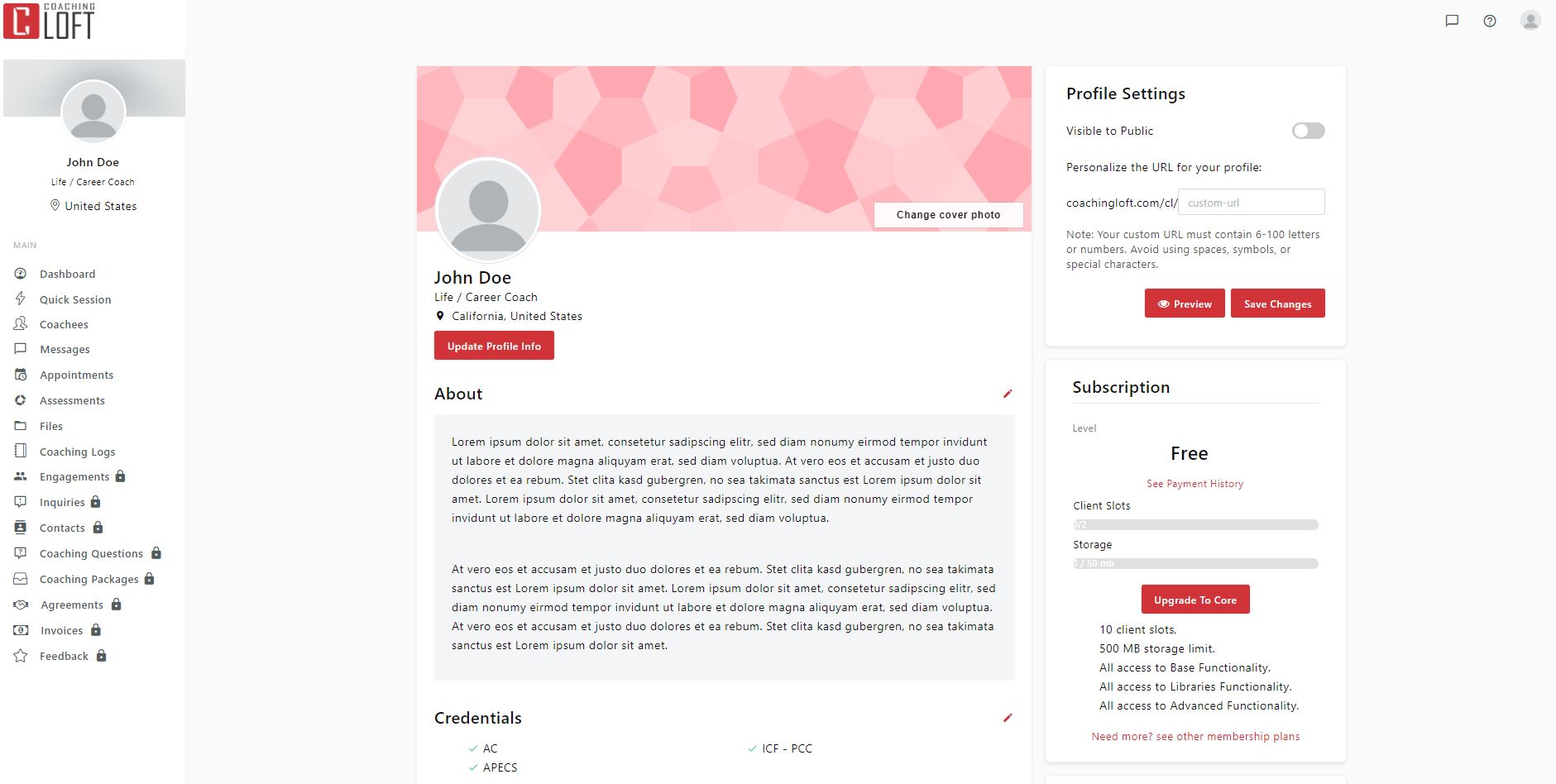 Set/update profile photo
To set your new profile photo, click on the blank profile photo for the file selection window to appear.
After selecting the file, a photo resizer modal will appear for you to adjust the position and the size of your photo.
Click the Save changes button to save.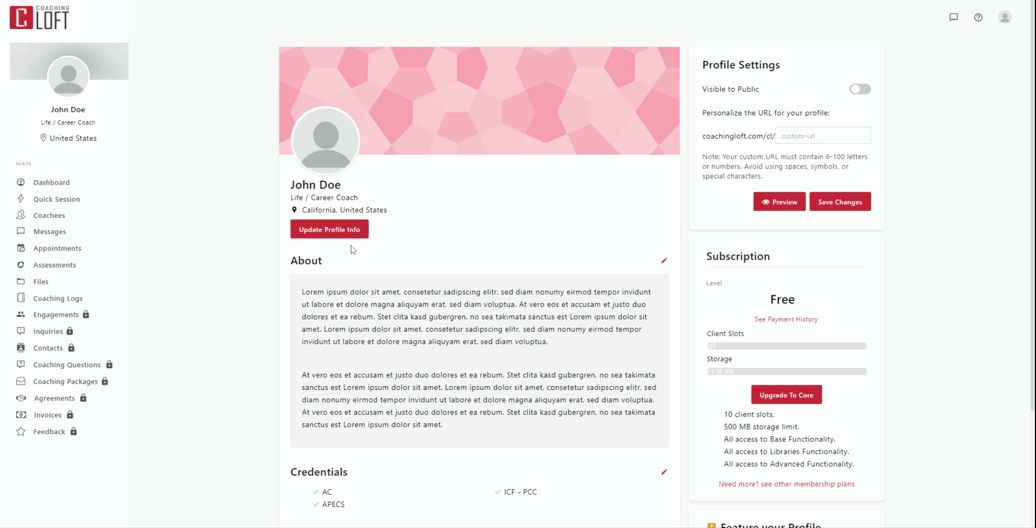 Set/update cover photo
To set your new cover photo, hover on the cover photo section and click "Change cover photo" > "Upload a new photo" for the file selection window to appear.
After selecting the file, you can reposition your cover photo vertically to your liking.
Click the save button to finish the process.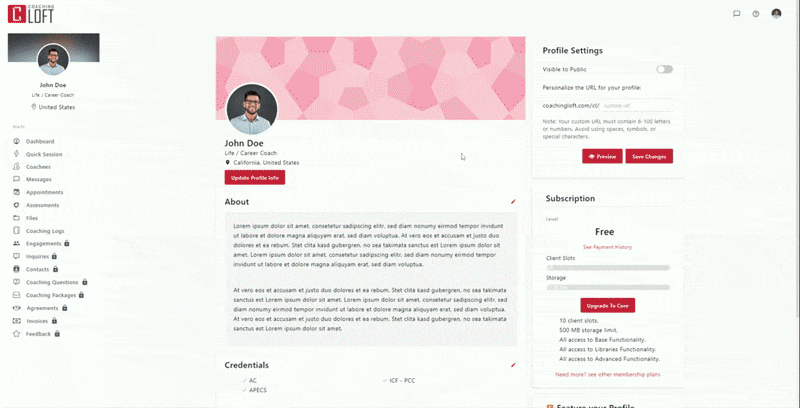 Configure Profile Settings
Coaching Loft helps coaches establish their online presence allowing their coach profile across the web. You can make your profile available and searchable by the public, allowing search engines to scan and index your profile helping you gather more prospects or potential coachees.
By default, "Visible to public" is disabled to protect your privacy. You can enable this if you want to make your profile indexed by search engines like Google, Yahoo, Bing, etc.
Provide a custom URL for your profile, your custom URL must contain 6-100 letters or numbers, avoid using spaces, symbols, or special characters.
Click Save changes to finish the process.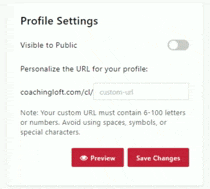 Your profile is now up and ready! Your coachees will identify you easily when you complete your profile by doing the procedures above.
If you turn on the "Visible to Public" setting your profile will be scanned by search engines in the next 7 days. You can also click the "Preview" button for you to review what the public will see when they visit your coach profile.