Frequently Asked Questions
General Questions
What is Coaching Loft?
Coaching Loft is a cross platform Software & App that helps coaches deliver a fluent and intuitive coaching experience to their clients, so they can focus on delivering a flawless coaching session, and their clients can focus on achieving their goals.
Is there an iOS or Android App available or coming soon?
Yes, eventually. Meanwhile, we built CoachingLoft so it really just works on any device (PC, Laptop, Tablet, Phone), and on any browser, as if it was an app. Easily "add it to your home screen" and get to it anytime you want.
Coaching Sessions & Collaboration
Does the platform have the ability to have a video call?
This feature is part of the development track of product developments we are working on. When it is launched, you will be able to initiate voice and video calls with your clients, and have the ability to record your sessions as well.
Do clients get access to the platform as well?
Yes, your Clients May gets access to the platform. This is a key feature, Especially if you plan to use the collaborative and interactive features, such as the Goals, Milestones and Actions Setting & Tracking feature and other collaboration features.
How do I give clients access to the platform?
In order for clients to get access, you actually have to send them an invitation. Once you have created the basic client file by entering their name and email, find and click on the Invite button and they will receive an email to login.
Usage & Functionality
How to use Coaching Questions
Coaching Questions Library is mainly used as a guide for your actual coaching sessions. Assigned questions to clients can only be seen on the Coaching Notepad during live session.
To view the assigned questions, simple click the questions button right above the session note textarea.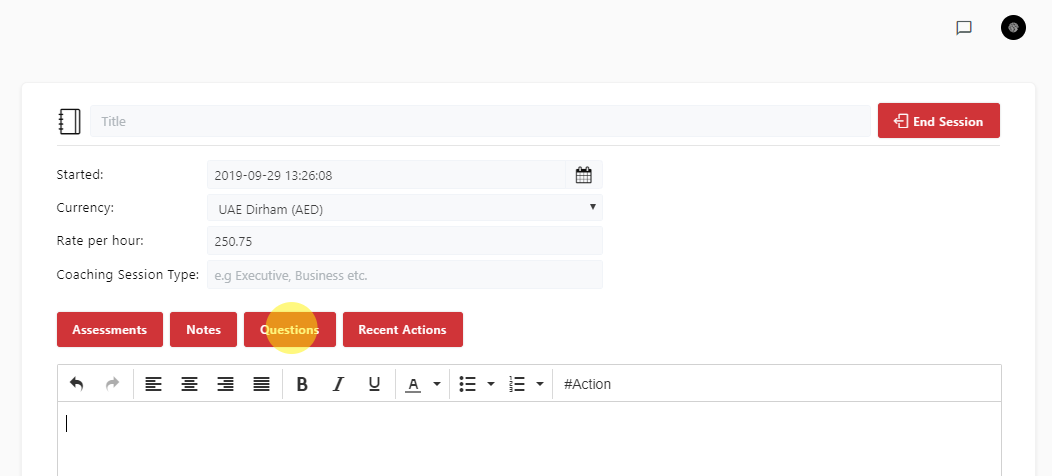 After clicking the question button, a modal containing all the question assigned to the client will be visible. You can use those pre-assigned questions on your live coaching session
by simply clicking the 'Copy To Notepad' button.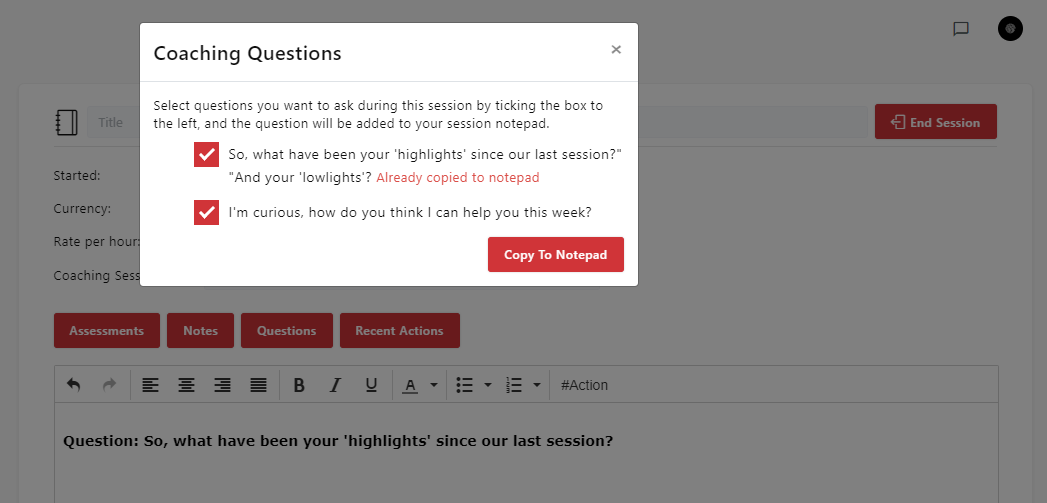 If you wish to send a custom questionnaire/form that your clients can answer remotely or prior to your coaching sessions, please use the Assessments Tool.
How to use Assessments
Assessments is a tool used to measure your clients current strengths and capabilities by sending them an assessment traits or custom questions.
To create an assessment, go to assessments page by clicking 'Assessments' on main menu.
Create a new assessment template by adding traits that your clients will rate after assigning it to them. You can also add custom questions by clicking the 'Add custom questions' link below the form.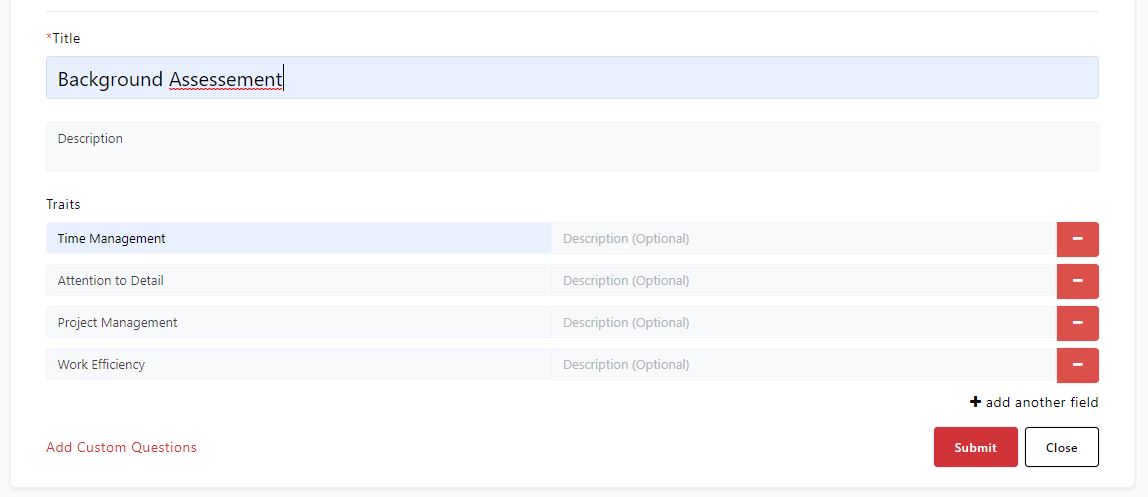 After creating your assessment template, assign/send it to one of your clients by clicking assign button.

Scroll down to the bottom of your assessment and choose a client who will answer the assessment.

Once your client has finished answering the assessment, you can view the answers from your dashboard or navigate to Clients > [your client name] > Assessments
How can I log past sessions?
You can log your past sessions by clicking Quick Session at your side menu. Choose a client and click proceed.
From there you can paste the existing logs/notes that you created from other source eg. (Notepad, MS word). Click "End Session" button found beside the title input once done.
Once your notes has been saved you can edit your session (start and end) times by clicking the edit button found at the top most right of the panel.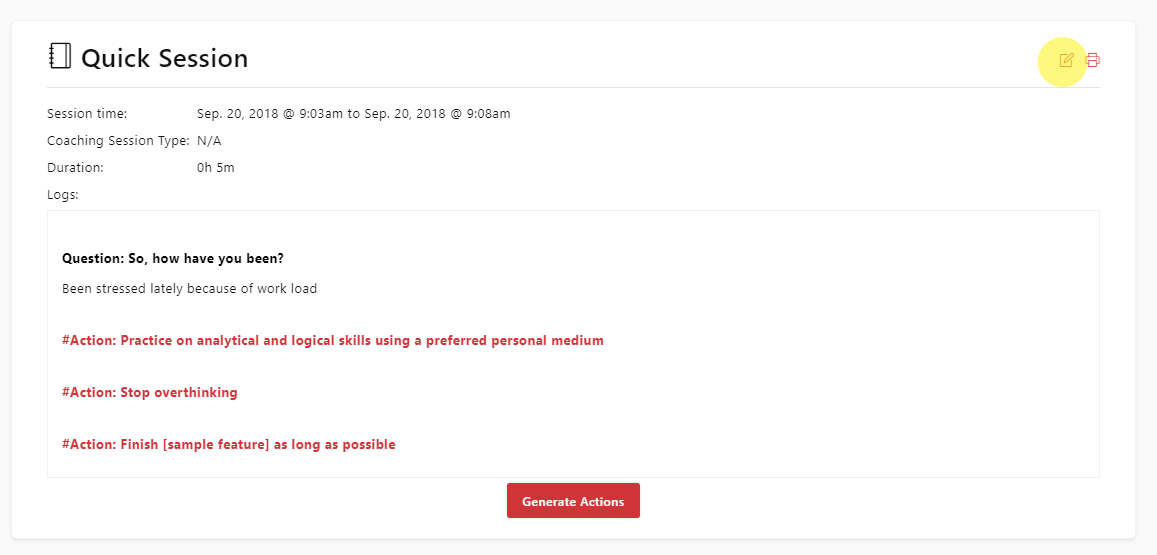 Payments
Is Coaching Loft free?
Absolutely Free to Sign-up and coach up to two active coaching clients. You can use Coaching Loft's basic functionality as much as you want. Use the platform for free for up to two clients, and upgrade to a paid subscriber, only when your practice grows.
How can I cancel my Trial/Membership Subscription?
1. Login to your Account and click your profile on the upper right area of the screen, then click subscriptions

2. Click the free membership downgrade button and complete the downgrading procedure.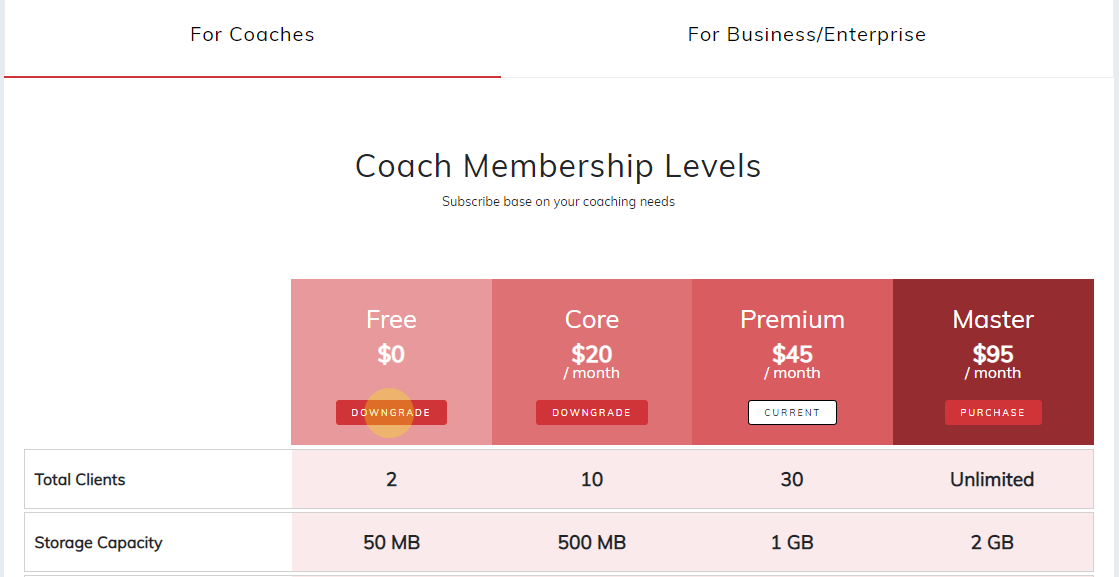 How can I get a refund?
The Service is billed on a monthly basis, or annual basis. It is entirely non-refundable. There will be no refunds or credits for partial months of service and no refunds for upgrading/downgrading your account. In the spirit of fairness, no exceptions will be made.

For more information, please see our Terms of Service.